06/12/2019
Striptease: dare the remake way 9 Weeks and 1/2!
A striptease worthy of the name cannot be improvised. No pressure, this exercise just requires a little organization: a suitable look, a little staging and some accessories at hand. You can imagine that once the music is on, you're not going to take a break and run for god-knows-what at the back of a chest of drawers. The rendering would be comical but the charm probably broken...
To guide you, we went to the source, in the 1990's… New York, Mickey Rourke and especially Kim Basinger. Here are 8 tips for a successful striptease inspired by the cult scene of "9 and 1/2 weeks"!
1/ The music: seductive but rhythmic.
A striptease is an erotic dance; he must therefore rely on characterful music for an unforgettable impression. You can opt for the brilliant "I just don't know what to do with my self" by the White stripes and take inspiration from the legendary choreography of Kate Moss (see here ) or a more sensual and unequivocal title like " Love Hangover" by Diana Ross .
Soak up the music well before the show, you can play it and anticipate the changes in tempo. It should not be too long so as not to have too much to furnish, nor too short so as to have time to undress in peace. Don't pace too fast, we're here to savor the moment!
Our preference obviously goes to "You Can Leave Your Hat On" by Joe Cocker (to seehere ) because it transports directly into the atmosphere …

2/ The decoration: light on you!
In which room should you start a striptease? Choose an option that gives you enough space to evolve. We advise you to stay at a respectful distance: seductive but untouchable, in short irresistible! The bedroom yes, if it is big enough. The living room works very well: Monsieur can sit on the sofa or on a bar stool to enjoy the show. Also to be tested: a long corridor, imagining a slow progression to the bedroom.
In "9 weeks and 1/2", the light filtering through the blinds gives an electric blue atmosphere to recreate if you can. Guaranteed effect! A fabric on the lamps for a subdued result, it immediately puts you at ease.
3/ The Look: sexy but practical.
Kim Basinger has everything right with her babydoll hidden under a shirt and a straight skirt. Simple, effective. Like her, make the suspense last by having several layers to remove if possible, a shirt under a loose sweater for example. Forget slim jeans, choose clothes that are easy to remove: zips, press studs, anything that makes your job easier is welcome.
By the way, and the heels? It's up to you, don't force your nature if it's not your thing at all. The barefoot side is also full of erotic charge…
Do you have a long mane? Now is the time to exploit it. Do you have a bob or curly hair? The bun letting out (or not) a few locks seems ideal.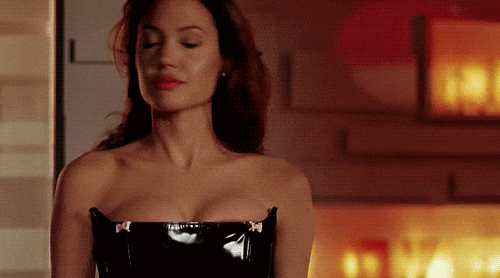 4/ The lingerie for your striptease: upside down.
The occasion is too good not to wear exceptional underwear. The bodysuit? Yes, provided it opens like our open bodysuit from the Nommée Désir collection. The bra that refuses to come off? Forget it, you risk dropping out or losing confidence. Atelier Amour specializes in "friendly striptease" with easy, sometimes magnetic openings. Transparencies, soft materials, stockings, garter belt, naughty openings, we tell you everything!
Some ideas to inspire you?
- untie bra Window on the courtyard
- cherished Plumetis open bra
- Baie des anges magnetic panties
- Guet-apens unfastening panties
5/ Choreography: the art of stripping.
The secret to a successful striptease: always start at the top and take your time with each piece of clothing removed. Between each downbeat, you can walk towards him with your hands on your hips, not too close, just to tickle him. No need to engage in a wild dance, just wave lasciviously and enjoy moving. Put your hands in your hair, catch your partner's eye and let the charm work...
Surprise him by accelerating your stripping to increase the pressure. Do not hesitate to strike a pose, from the front, with one leg on a piece of furniture, or even from behind when you drop your skirt...
6/ Tips for spicing up the chorea.
Don't have a vintage corded phone handy like Kim? Involve your partner by sending him some of your clothes (a jumper, a garter belt…), but not all of them so as not to get bored, and especially not your heels, it's dangerous… You can give an idea of ​​the charms of your lingerie: the hooks that open, the veil that reveals...
You can also stick a bowl of popcorn in his hands to fully play the movie session card. Use the decor: furniture and walls can be used as a support to remove your stockings or your heels without risking falling. Sit in a doorway and gently tilt your head back, arching your kidneys. You will really get him in awe!
7/ The grand finale.
Here is the high point of these charming preliminaries: the conclusion. As Joe Cocker would say, keep your hat (You can leave your hat on), the height of chic! Also keep your Atelier amour lingerie until you take action, it is designed for... Invite him to discover for himself the lingerie you have left on your body, he's just waiting for that!
Another tip to conclude a striptease in style: keep your jewelry (which you have chosen quite massive) and your bare skin will be resplendent.
8/ Girls Just Wanna Have Fun
One watchword: have fun. Keep in mind that this is a moment of shared pleasure where complicity is essential. You got it, you don't need to be a dance pro to get started.